Many thanks to Luke Funk for being our first guest blogger. Luke is returning to Deerhorn this summer to once again head up the waterfront.
With just about 2 months until the first Father Son session, I can't help but recall my very first day at camp, 13 summers ago. I was 9, no, 9 and 11/12ths of a year, but that's getting technical. I had never been away from home for more than a casual sleepover. I was never a homesick kid, but I have definitely had a serious case of the butterflies. I was a shy kid, believe it or not, and really took the "don't talk to strangers" motto to heart. We arrived at camp and I jumped out of the car,  starting to walk to the office. At least I thought I was moving. Turns out, I was frozen in place unable to move. Was I scared? Was I nervous? Did I know where I was going? Who knows, and who cares? All that mattered was that I had arrived at the place I would continue to call home every summer, even the ones for which I was not present, over the next 13 years and counting.  I had always been a good swimmer. Well, at least I thought I was good. I could water-ski and swim the length of a pool no issues, but north Pelican Lake, now that was a different story. I was intimidated by the water. The thought of getting in to take my swim test? No, thank you, I'll pass. But, naturally, I couldn't tell Amy that. After all, despite my age and small stature, I knew how important first impressions were. I won't bore you with the details, but I dove in, only cheated 2 times… maybe 3… 6 times during the test. Maybe that's how I know when kids are cheating now!
With the swim test out of the way, I had a new goal in mind: reach the Japanese flag by racing down the slide on a kick board. I was examining the slide when something big and blue and yellow caught my innocent eye. It was my first encounter with the king of the waterfront, the Rave. Music played in my ears as I saw myself jumping in slow motion on the Rave. Then I thought about the prospect of swimming again in the murky water to reach this magical man-made invention. Yikes! I quickly reevaluated the situation but that's a story for another time.
My koogee, 2, was a rocking place. I couldn't tell you who my fellow campers were but I remember Lenny Erickson was my counselor, and he was the coolest person. Ever. I had the top bunk on one of those old metal bunk beds in the far right corner of the koogee. Little did I know that 10 years later I would be sleeping in the same corner of this koogee my first year on staff.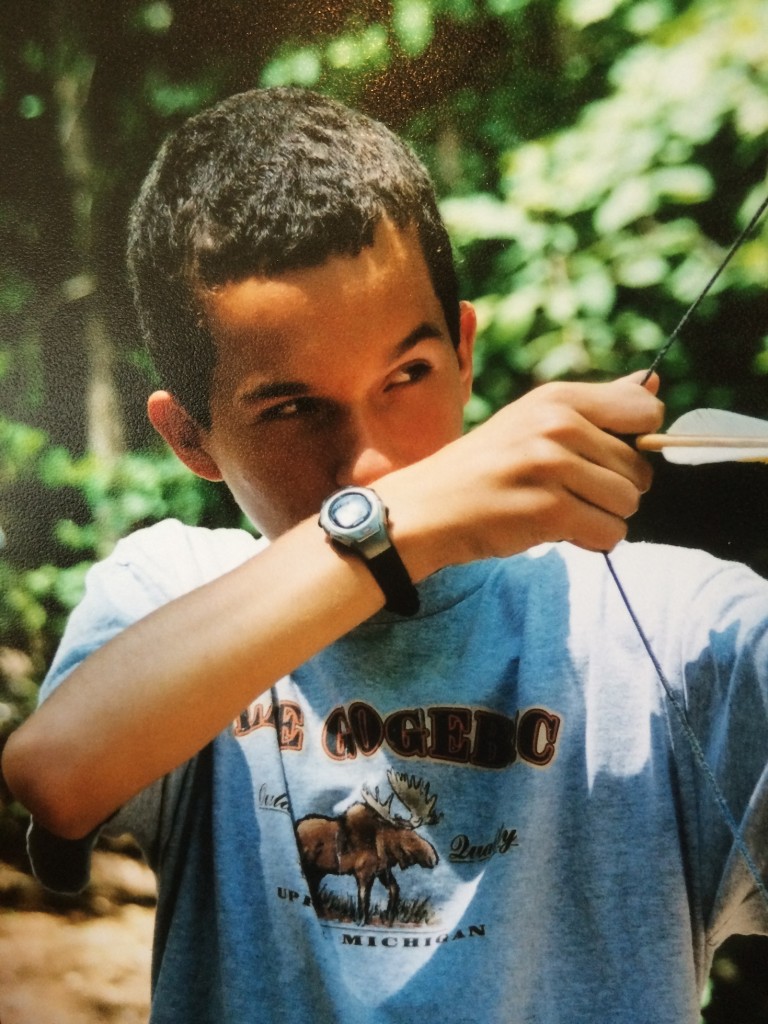 I can't say I remember much past that from my first day of camp. What I do remember has stayed with me. During the very first meeting when the staff introduced themselves, I remember looking at the counselors and thinking, "Man, I wanna be just like them. I'm gonna be a counselor here at camp." There was a sense of belonging that I hadn't felt before. I knew I was in a special place, even at 9, and that I was surrounded with special people. I knew I was safe.
That promise I made myself came true, and this summer I return for my fourth summer as a counselor. It's my turn to help give the campers that "first day of camp" sensation I was able to experience so many years ago. Watching the kids jump in the lake (after all, we don't dive anymore) to take their swim test brings me back to that beautiful June day in 2001. The people have changed, though many have stuck around, the Rave is now a different color and the slide is all blue, but camp has stayed constant. We are a family. That will never change.
Be who you want to be and not who the world wants you to be. Trust me, at Deerhorn, that will be good enough. I am beyond excited to get this summer started, develop new friendships, strengthen previous ones, and become an even better counselor to every kid in camp. In 13 years I hope a first year camper can write a similar story about their experience at Deerhorn. As a result, I have given myself a new challenge for this summer and hope others follows suit. "Enjoy the little things in life, because one day you will look back and realize they were the big things" (Robert Brault).
To end, I leave you with a definition of family that is the core of Deerhorn for me. "Family isn't always blood. It's the people in your life who want you in theirs. The ones who accept you for who you are. The ones who would do anything to see you smile and who love you no matter what" (unknown).