This is Katniss…the newest addition to the Deerhorn Dog pack.  We adopted her from a shelter in Tennessee in April, so 2015 was her first summer at camp.  As soon as she came home, it was very apparent that, whatever her beginning had been like, she had not been exposed to humans. I want to think that it's simply lack of exposure, not abuse, but you just never know.  She was the sweetest, gentlest dog, but was so incredibly fearful….so fearful that we rarely were able to pet her, even in our house, and she spent much of her time hiding under our bed, especially when we had guests in our house.  Our other dog, Rooster, was social from moment we brought him home, so a 4 month old puppy who didn't come clambering for attention was a new concept for us.  We knew we had to be patient, and give her time and space.
So we weren't quite sure what her first summer at camp was going to look like…would she run away? Would she even come out of our house?  She loved every dog she ever met, so she became instant best friends with Skatie and the other dogs at camp. But she spent most of every day hiding under the lodge.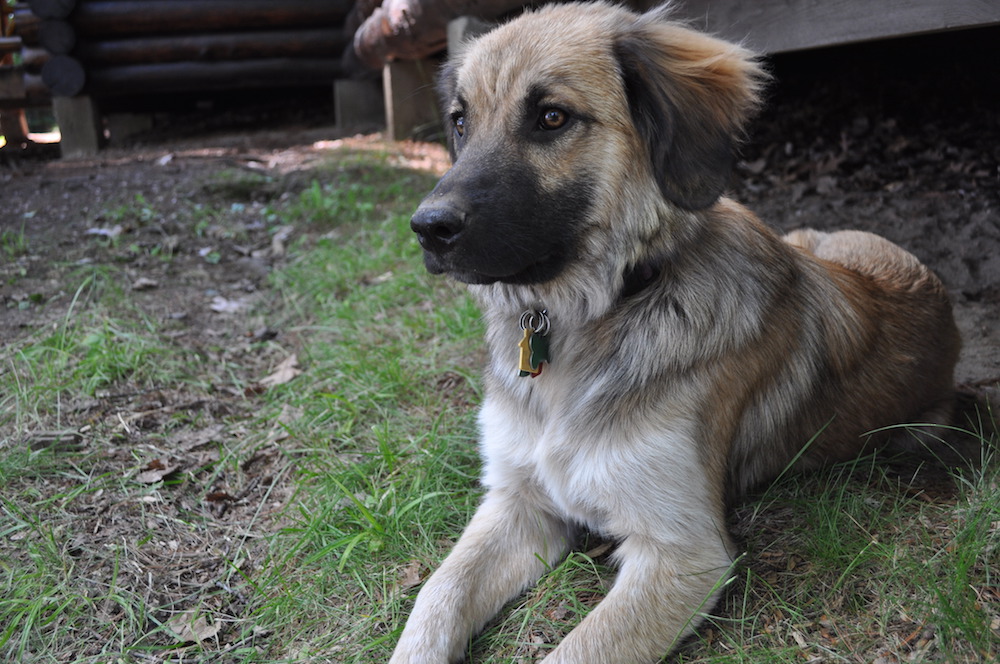 Can you see the fear? The uncertainty? The lodge was a good spot for her, because she could see everything that happened around camp, come out when there were dogs playing, but retreat easily into a safe space when anyone tried to pet her.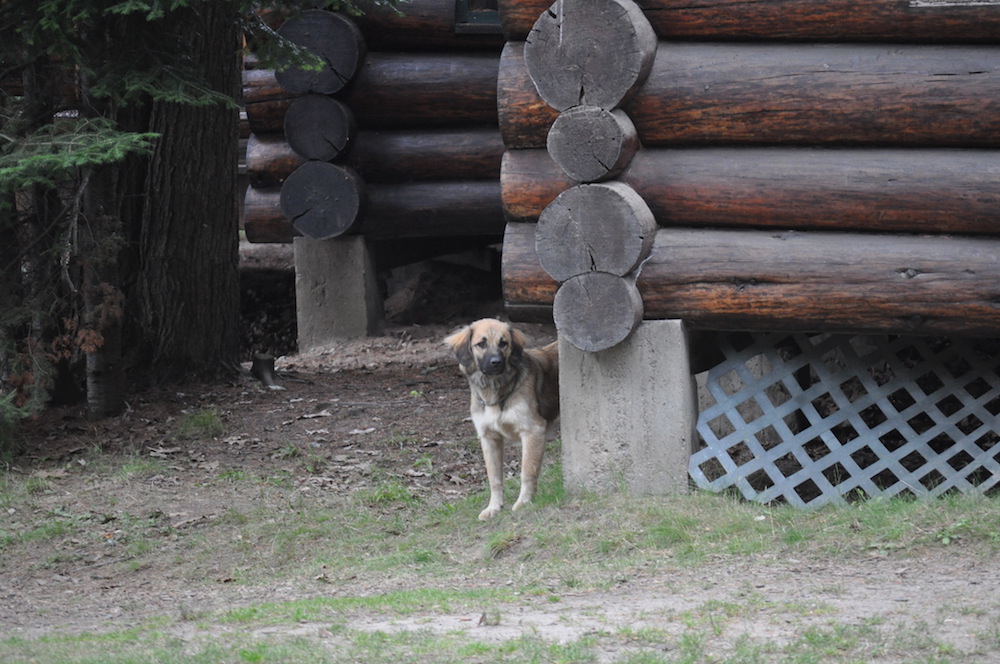 She was curious, and interested, and keenly observant of everything that happened around camp…but no matter how gently kids tried to approach her, she would quickly retreat in fear.  Many campers who were at Deerhorn in June didn't even know Katniss existed, while others had to be pulled out from under the lodge as they tried desperately to pet her.  We tried to explain that Katniss just needed space to grow, that she would come to realize on her own how awesome camp was, and Deerhorn was the greatest place to experience the true kindness of humans.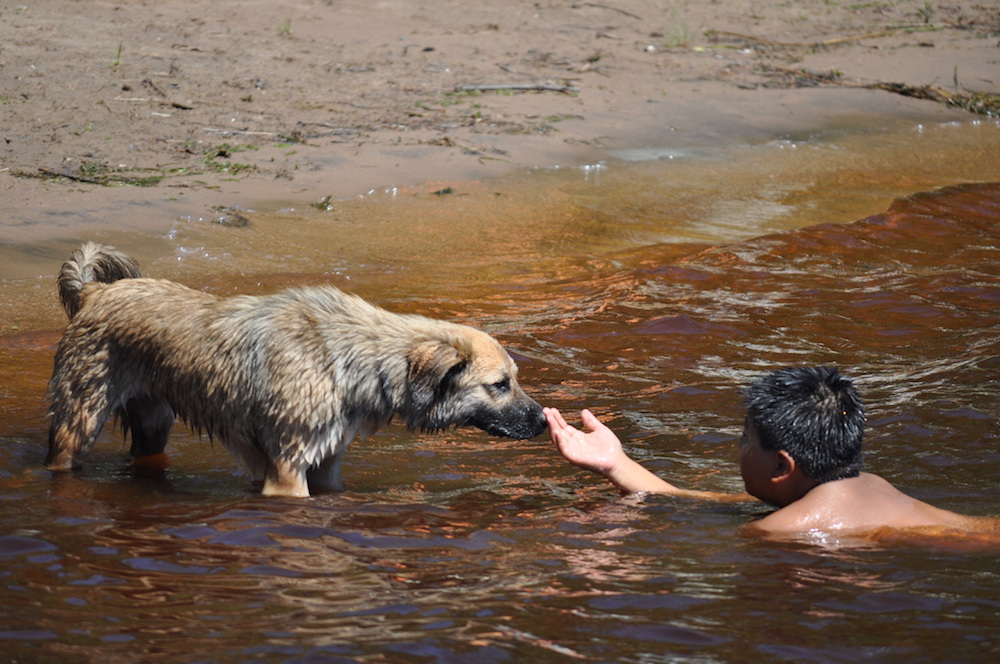 And you know what? Slowly, but surely, she did grow.  Other dogs were playing on the beach, so she'd venture down to play too. Kids learned that the best way to approach her was low and slow, and many showed great patience, waiting for Katniss to approach them.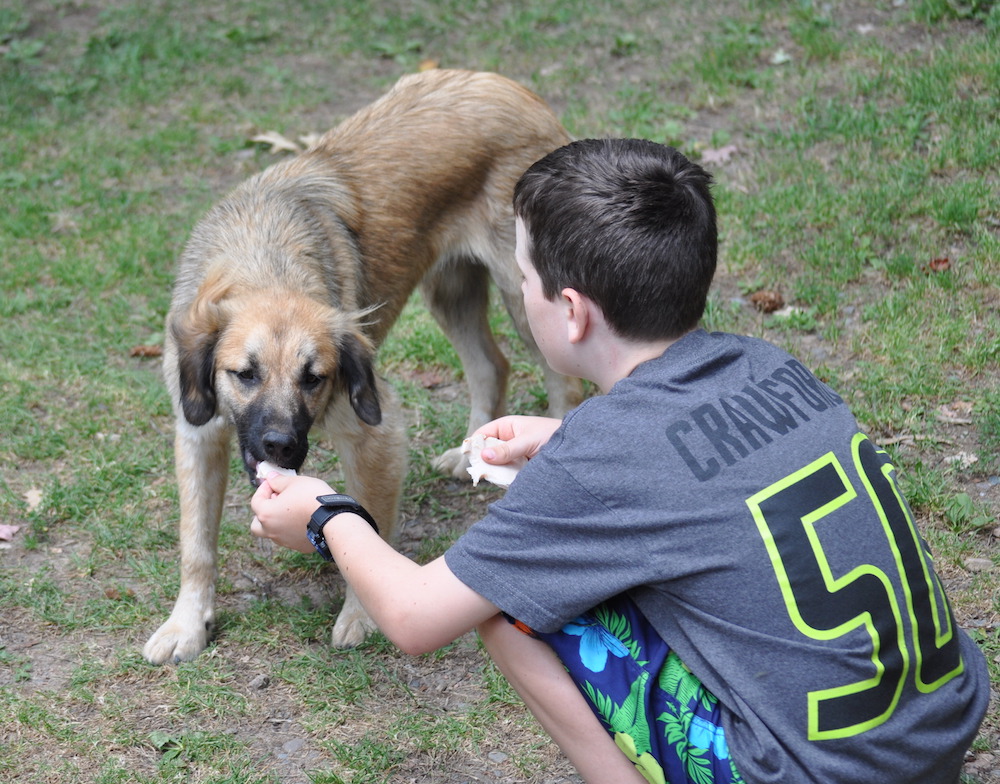 I gave kids leftover food from meals to give to Katniss, so she could see that humans bring good things.  She couldn't be pushed or forced into it, we just had to give her that time and space…and as a "dog mom," it was a beautiful thing to watch.  As I'd look out the window and see her asleep on the beach, being petted gently by a camper, my heart swelled with gratitude for Deerhorn and the growth that happens here.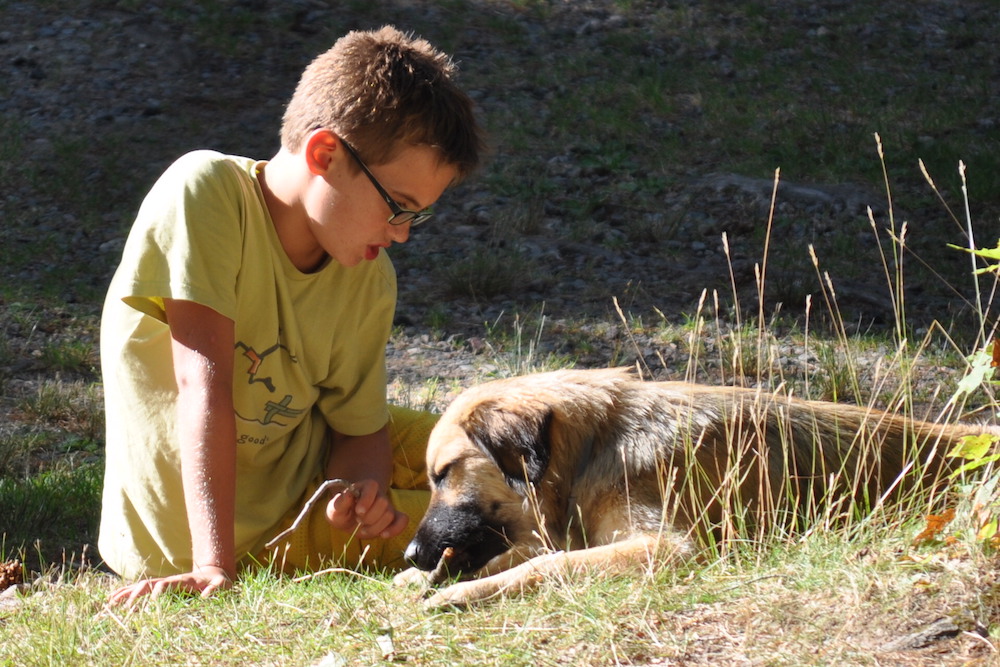 Because, you see, this story is not just about a dog…this story is about all the ways that Deerhorn provides a safe, nurturing  environment to grow as a person (or a dog). Katniss's story of growth is one seen daily at camp.
It might be a first year camper who is spending two weeks away from home for the first time, and conquers homesickness.
Maybe it's a senior camper who has been at Deerhorn for 5 years, but has always been afraid to try horseback riding until his friends encourage him, and he finds a new love.
It's the 15 year old who has tried for years to get up on skis, but never gives up, and overcomes his fear of failure and embarrassment to give it that final try…and grins with joy as he flies around the lake.
It's a shy 10 year old who has been bullied at school and is hesitant to make new friends until he finds a whole camp full of people who are there to support him.
It's a competitive Deerhorn Leader who learns, in the course of his leader summer, how to lead his team with kindness and patience, and that winning isn't the most important thing.
Deerhorn is a magical place…the same place that allowed Katniss to find her way to feeling safe and secure is the place where your boys learn, grow, and find their own safe haven.