What an exciting day to be at Camp Deerhorn!   Not only was it Sunday, which we all love around here…but it was also the debut of an exciting new team event, called Pugawagan. Our special events guys, Nick & Ryan, have spent hours working out all the kinks, making sure that everything would run smoothly for this new event…and that it did. Kids loved it and had an absolute blast. There was a very elaborate back story involving the four Native American tribes and the search for the mysterious Conestoga. Each team had 7 "villages" they had claimed as their territory, (examples include hockey on the Skeeter, or soccer on the soccer field) and each village had a War Chief whose job it was to protect that "village". So members of the other teams had to try to defeat that War Chief in order to earn passage through that "village", gaining members of his own team as they went.  The event ended when the leader of each team had to row a half canoe out into the lake, retrieve his team flag, and stake it at the campfire ring, where the mystical Conestoga could be claimed.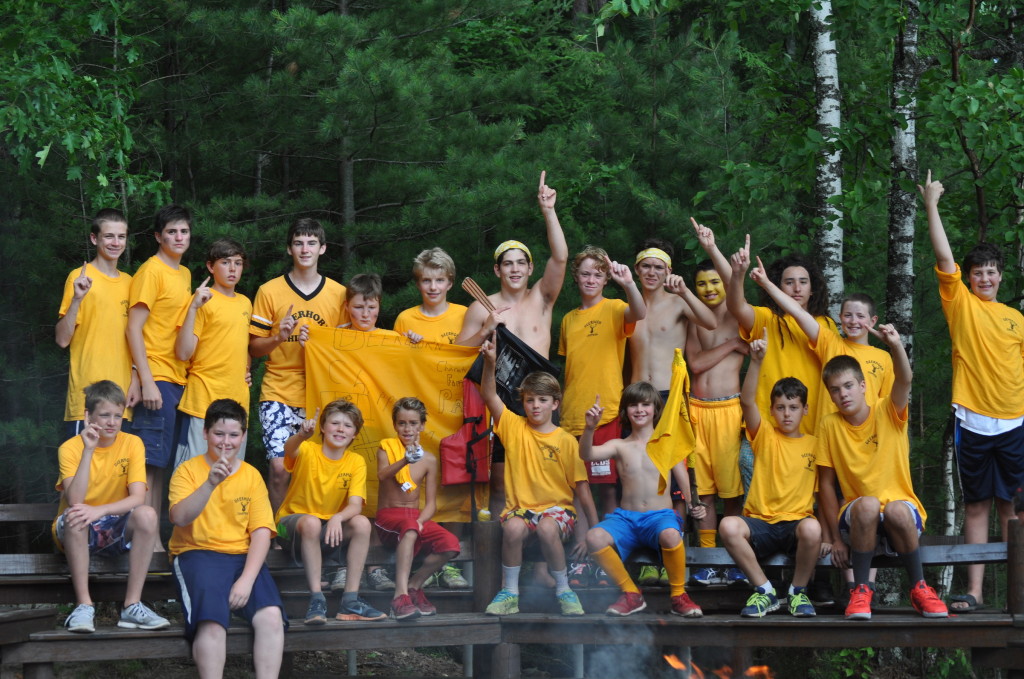 The Chippewa won the event, lit the campfire to signal their right to the Conestoga, and planted their flag. Navajo came in second, Apache third, and Iroquois fourth.  The best part happened at the end. All the campers came down to the beach to do an all-camp machine gun run. And after they did, they all formed a big circle to sing Deerhorn Hall. Another reminder to all of us that even though today there were four "warring tribes"…that in the end those tribes come back together as friends. It was very cool to watch.  You can check out some cool videos of today's event on our Facebook page, and pictures are coming soon to Shutterfly.
Pugawagan (which means "battle club" in Ojibwa) was definitely the highlight of the day, but kids were busy the rest of the day as well. Lots of kids played tennis this morning, as well as ultimate frisbee & street hockey on the Skeeter. Kids explored in the woods and found a baby turtle that they were super proud of. Kids also wrote letters home today, which were turned in at lunch and will be mailed out tomorrow. (Yes, I'm sure your son wrote a very long, detailed letter. 🙂 We can only check off the envelopes, we can't promise what's inside. But just know if you get a short letter or blank piece of paper…it means he's having too much fun to be willing to sit down to write a letter.
Breakfast was cinnamon toast, lunch was ham & cheesy potatoes, and dinner was burgers for our picnic supper on the beach. After dinner, boys enjoyed time with their koogees and we ended our day with another great campfire.