Washington Irving said, "There is a sacredness in tears. They are not the mark of weakness, but of power. They speak more eloquently than ten thousand tongues. They are messengers of overwhelming grief…and unspeakable love."
It is this overwhelming grief that I am dealing with right now with the sudden loss of Rooster. I have lost many dogs in my lifetime, and it's always heartbreaking, but never like this. Rooster was that "one dog" for me. Losing him so young, so suddenly, and while we were gone on spring break has left me scrambling to come to grips with this new reality. Writing has always been cathartic for me, so I want to tell you the story of Rooster.
In the spring of 2011, I was diagnosed with breast cancer. We were living in Montana at the time. Several times during my chemo sessions there was a therapy dog named Turbo who would come into the treatment room to visit. Those visits were a huge bright spot during a very scary time. I knew right away that I wanted to do therapy work someday. The two dogs we had at the time, however, 2 Chessies, Rio and Bridger, were not going to be good candidates. Rio had a very nervous personality, and Bridger was diagnosed with a heart condition as a puppy, and they told us he would only live to be 3-4 years old. By 2011, he had made it to 8, but we knew we didn't have a lot of time left with him. To say that was a tough year would be an understatement.
In February of 2012, my brother, a veterinarian, who was living in Indiana, sent me this photo.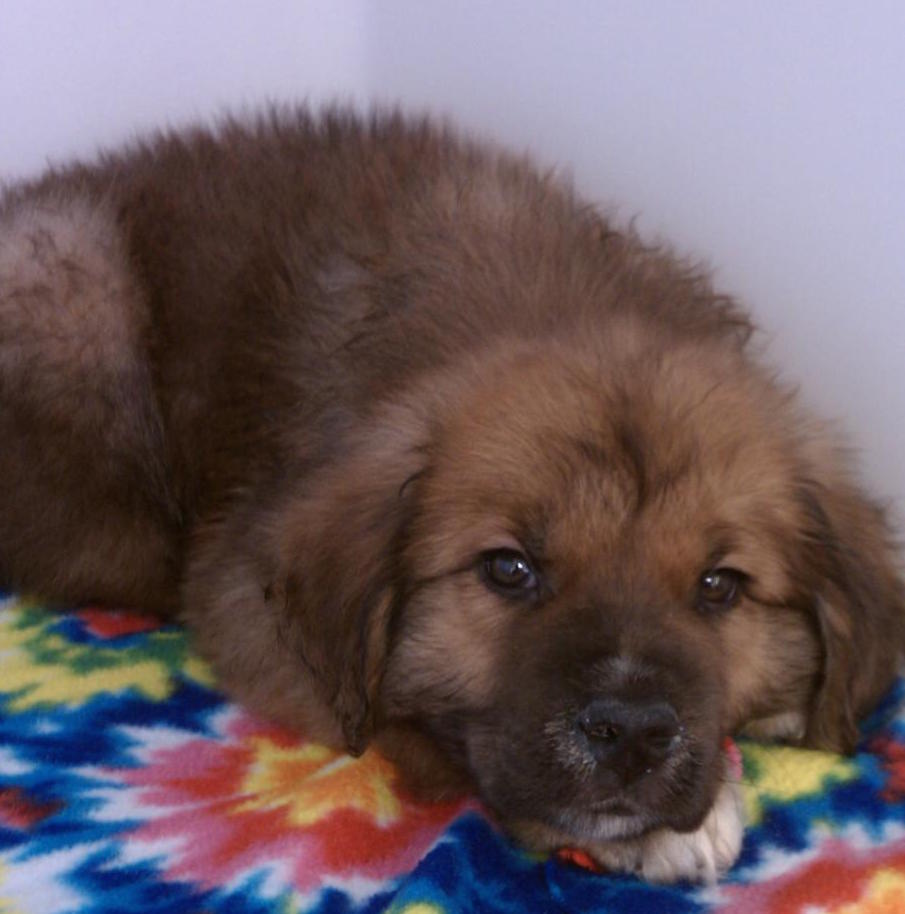 This litter of puppies had come through his office from a nearby shelter, and he had fallen in love with one in particular. Bridger was on heart meds at the time, and we knew the end was near, so I had to say no to that beautiful face.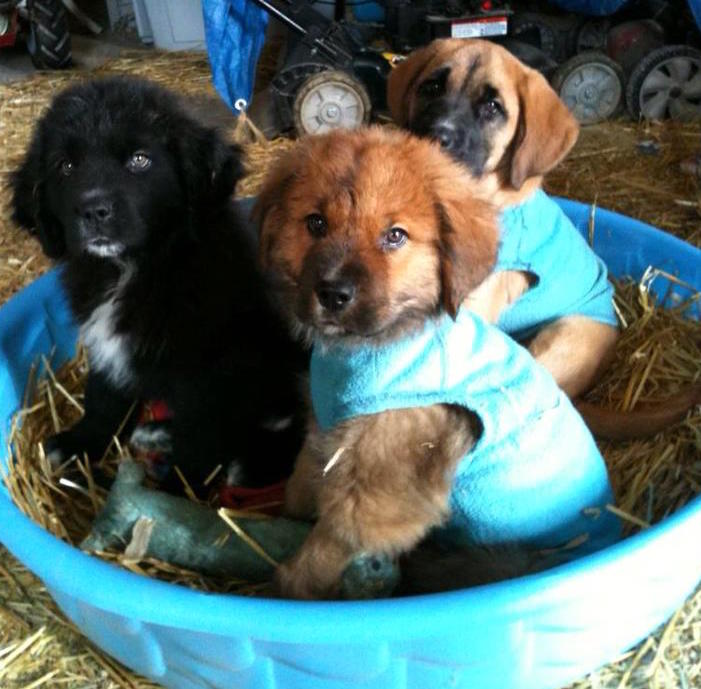 A few weeks later, Bridger passed away, and my brother sent me another photo.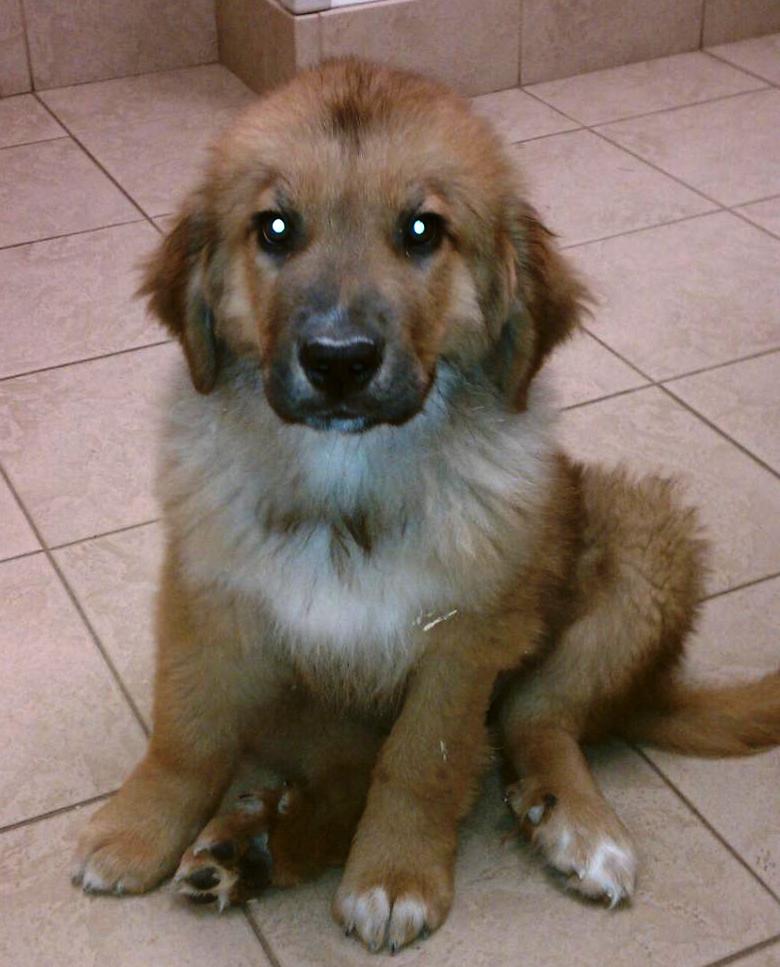 As summer camp owners, typically we need to get puppies in the fall to have more time to train them. It was April, way too close to camp, and too soon after losing Bridger, but we fell head over heels in love, and knew he was meant to be ours. There was no way I could say no.
The fact that he was in Indiana while we were in Montana was not even an obstacle. My parents drove him halfway, meeting me in South Dakota, where I first got to hold that beautiful boy. Within days of returning home, I knew I had found my therapy dog. He was born for the job.
We were nervous that first summer at camp that he would wander off into the woods and not come back. In fact, several times he would disappear for hours in the afternoon, and I would freak out. But it turned out that he had gone into one of the cabins during rest hour, fallen asleep in someone's bed, and stayed there the whole afternoon.
Rooster and I got certified in therapy work in the fall of 2013 and it has been a joyous 4 ½ years. He knew when I took a banana into the bathroom, it was time for a bath. (The boy LOVED his fruits and veggies!)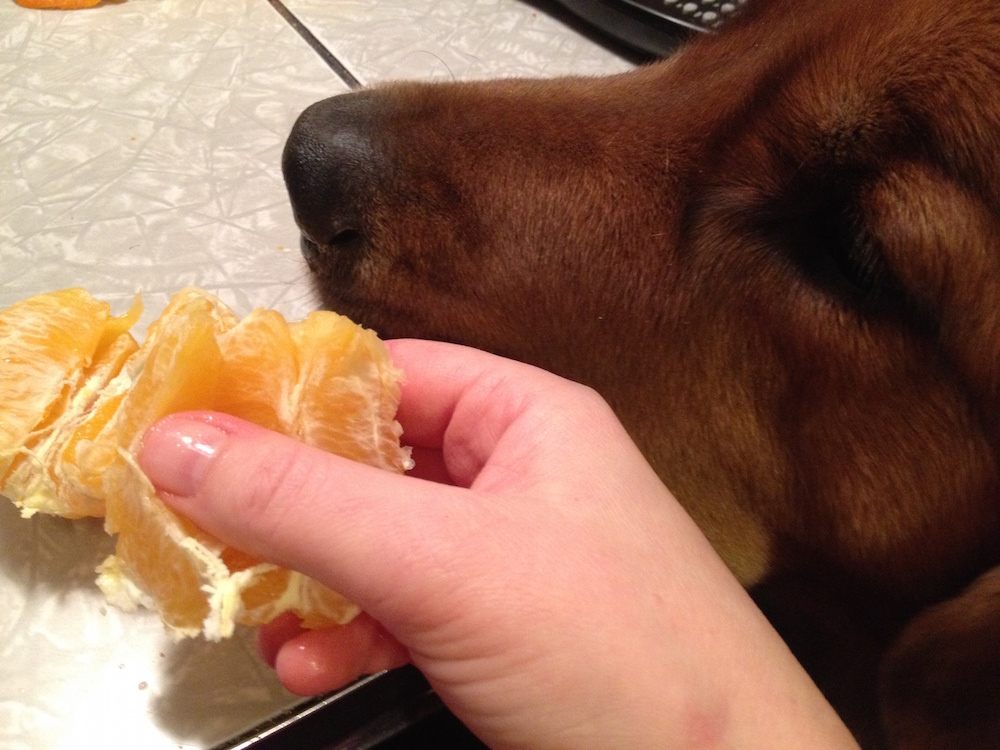 He knew when the pink backpack came out, it was time to go. I loved watching people's faces when they first saw Rooster…joy and amazement. I felt that way every time I looked at him. I felt like he was too good to be true, and I knew no matter how much time we got with him, it would never be enough. We just never imagined it would come this soon.
We called him the "Wal-Mart Greeter" at the dog park, because he would much rather stand at the gate to greet everyone who walked in than actually have to walk around the dog park. When we visited the hospital, he loved the psych ward more than room visits, because he could just lie down and let everyone come to him. And dorm visits, crashed out on the floor, covered in eager hands? Those were his favorite.
I knew it would break me when he passed away, but I wasn't ready for it this soon. In the spring of 2012, he was my light at the end of what had been a very dark tunnel of a year. One line of our Deerhorn Creed says, "To spread sunshine and good cheer, just for the fun of it." I can't think of a better line to describe Rooster. He was my sunshine.  He brought joy and kindness to everyone he met. I know he was loved by so many, through all of his therapy work and his six summers at Deerhorn. I know how sad some of you are that Rooster is gone, and I want to say I understand and thank you for loving him so much.
It's always hard to contemplate another dog after the loss of one so special…but for our family, that is how we heal, and hopefully this fall there will be another gentle giant added to the family. I read a book a long time ago called "Sight Hound" by Pam Houston, and there were parts that really spoke to my heart. It's narrated by a dog named Dante, and he says in the book, "I wanted her to see that the only life worth living is a life full of love; that loss is always part of the equation; that love and loss conjoined are the best opportunity we ever get to live fully, to be our strongest, our most compassionate, our most graceful selves."