We ended our first Father Son camp this morning, and said goodbye to new friends and old. Everyone had a great time last night playing Scalp, and there were so many wonderful performances at the last campfire of the session.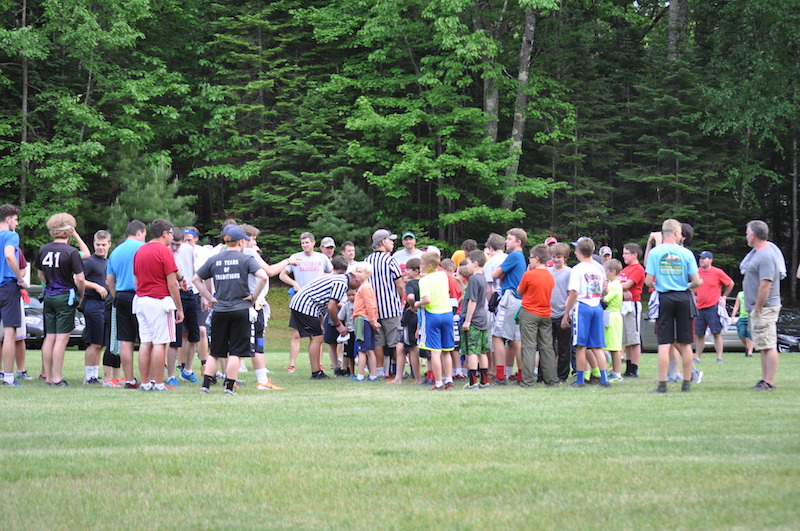 This morning we had waffles and sausage for breakfast and then a few dads and sons enjoyed some last activities before taking off.
At the closing dinner last night, we had a couple of dads who gave amazing talks about what Deerhorn means to them and what it is that makes Deerhorn so special.  Paul Donaldson was a camper and leader for a long time, and was back for the first time in 9 years with his youngest son, Paxton, while his son, Parker, is on staff. It is a true joy for us to reconnect with the Donaldsons, as Paul is one of Deerhorn's biggest cheerleaders. He got to watch Paxton and Parker start their own Deerhorn legacy and form their own friendships at camp.  He reminded us all of the incredible growth that happens at camp, and that Deerhorn is one of the cornerstones upon which his foundation is built. We are so grateful to have them back at Deerhorn.
Jason Ciaglo is a second year dad who attended with his son John.  In Jason's talk, he discussed the book "The Life-Changing Magic of Tidying Up," and he related it to Deerhorn. The focus of the book is on surrounding yourself with those people, places, and things that spark joy in your life.  He spoke about what a gift Deerhorn is because it brings together people and activities that spark joy in a place that does as well. How lucky we all are to be a part of a place where we are surrounded with what sparks joy.  Joy is everywhere around Deerhorn, on the face of the son who just got launched by his dad off the Rave…on the face of the camper who is riding a horse around the ring for the first time…On the face of the dad who gets to watch his son be brave enough to try water-skiing for the first time.
We feel incredibly blessed to be surrounded by such joy.  We, as Broadbridges, could never create this joy by ourselves. It is the people we surround ourselves with, from the campers, to the dads, to the incredible staff we hire each year.  Thanks for being a part of such joy!