Today's Sunday event was Attack of the Sioux. At camp, we have four camp teams, the Apache, Chippewa, Navajo, and Iroquois. Today the staff formed a 5th team, the Sioux. The event consisted of three periods of team competition, including such events as bombardment, where kids had to run through an obstacle course without getting tagged by a ball, water jousting, dodgeball, ultimate frisbee, and the viking canoe paddle, where canoes are fastened together and kids have to cooperate to row the entire boat in a race. The last period of the afternoon was a game of all camp Scalp.  The kids 12 and under played the assistant counselors on the baseball field, while the kids 13 and older played against the counselors on the soccer field. I'm not sure who looks forward to it more, the kids, or the staff.  Although from the picture shown above, you might not believe that the Sioux were "attacking" anyone. Mark Deacon is one of the best "Scalpers" in camp…but what that means is that he had a target on his back the entire game. No matter how good you are, when there are 30 kids chasing you, trying to pull your flag, you're up against the odds! Even in dodgeball, where 5 staff took on 20 kids, sheer numbers seemed to rule the day. There were definitely activities where the staff had the upper hand, but overall the most important thing was that everyone had a ton of fun. Pictures from today's event can be found HERE.
The E session kids are settling in easily to the camp routine. They found out the teams they were on last night, and were psyched to get their team shirts.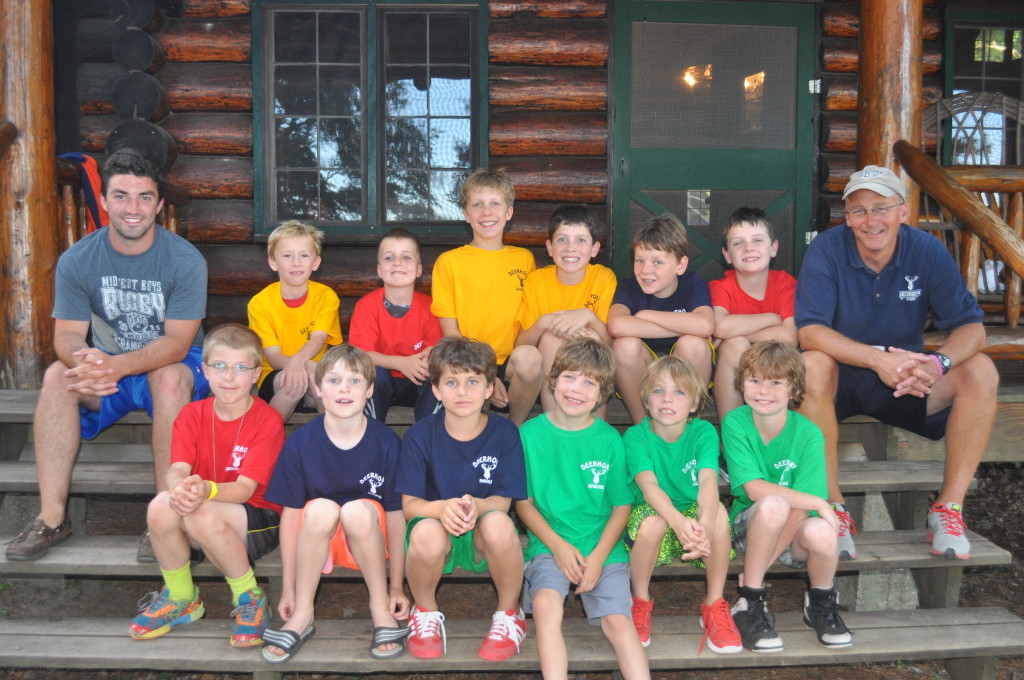 This morning we slept in until 8:15 and enjoyed cinnamon toast for breakfast at 9. Campers enjoyed free time this morning, and there were games of ultimate frisbee & street hockey on the Skeeter. E session boys enjoyed playing sprout ball on the golf green, along with lots of other campers. One of my favorite parts of being a photographer at camp, is catching moments of pure joy, simple laughter, utter happiness…and I love getting to share those moments with you at home.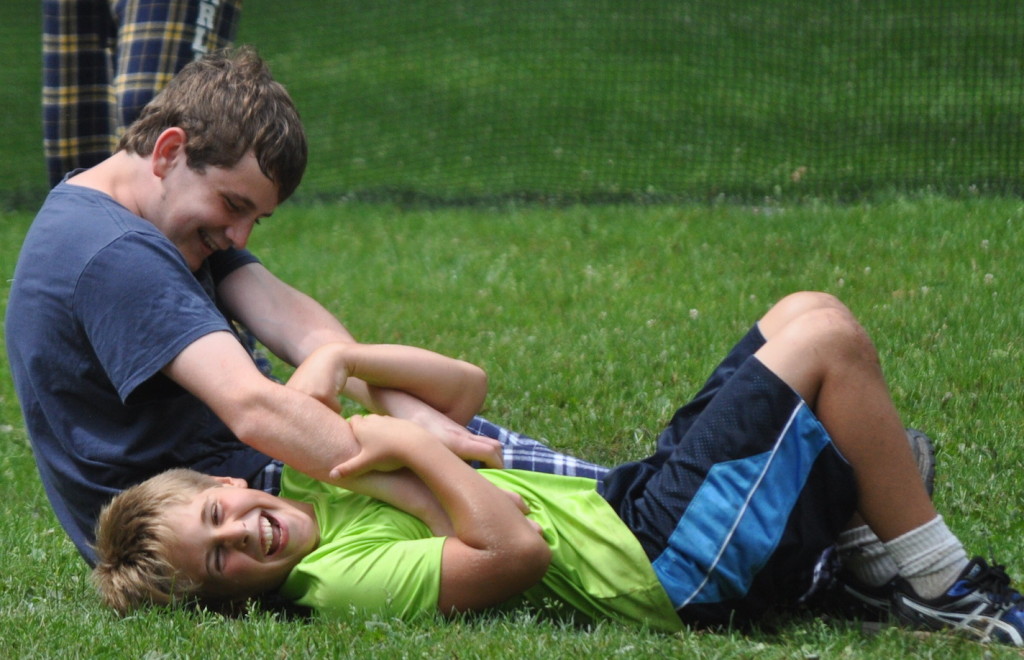 Jesse Webb gave us a great Words of Wisdom in the lodge at noon, and we all enjoyed Thanksgiving dinner for lunch.  After the Attack of the Sioux, we had hot dogs and brats for dinner on the beach. After dinner, campers spent time in an activity with their koogee, and now we're off to our Sunday night campfire. It rained earlier in the day, but the rain quit just after lunch so the team event could continue as planned…another great Sunday at Deerhorn.