WHAT A DAY! Again, we were blessed with beautiful, warm, sunny weather. Our morning started with french toast for breakfast at 9, followed by some free time around camp. This morning there was no shortage of things to do! Kids and staff organized rugby matches, baseball games, street hockey at the Skeeter, ultimate frisbee, and volleyball. However, there was also a lot of practicing for this afternoon's event.  At noon, Papa gave a great Words of Wisdom about learning from your mistakes and how you can use them to grow as a person.  Then we had swedish meatballs for lunch, followed by rest hour.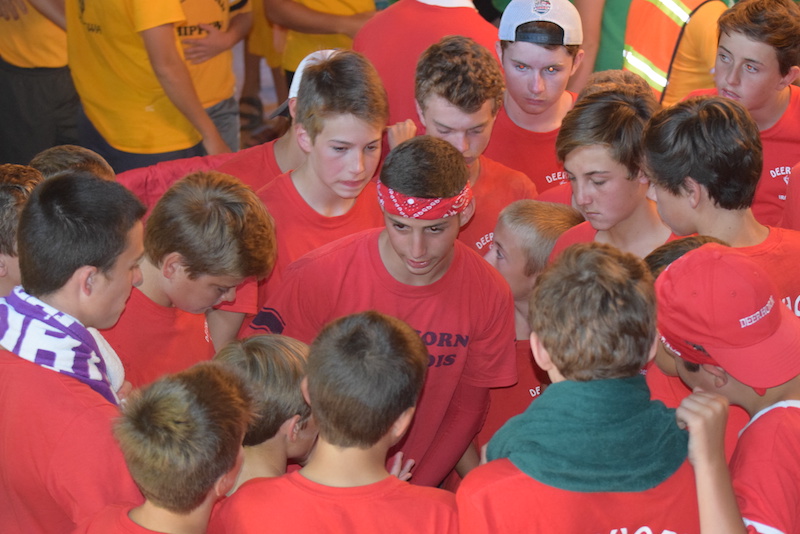 And then….at 3pm…it was time for the grandaddy of them all, the biggest Sunday event of the summer…the Monkey Relays.  For those of you unfamiliar with the Monkeys, it involves carrying a ping pong ball on a spoon all over camp, to various activities.  Each member of the team is vital to its success, from every ping pong carrier, to the sailors and archers, and riflemen. Every activity in camp is included, and when all the teams gather in the lodge, excitement runs high and the noise is deafening!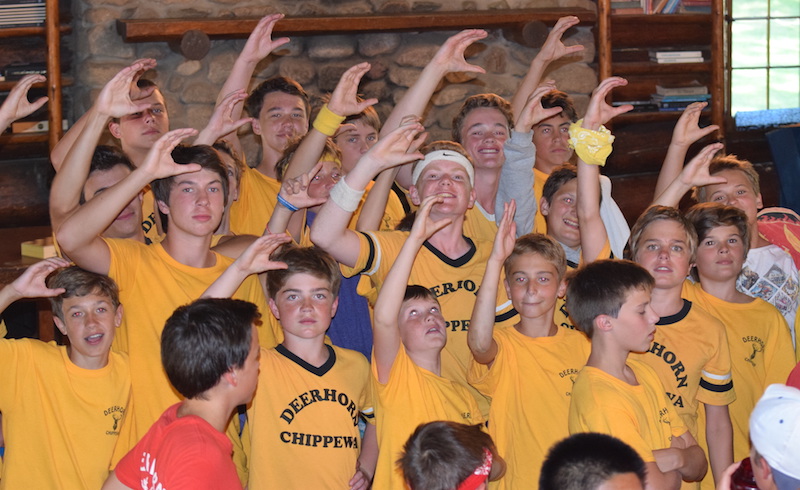 The relay begins in the lodge, where kids from each team blow a ping pong ball across the lodge floor…and then it's on, with all of us trying to run to keep up with kids carrying ping pong balls with incredible speed!

From hammering nails to arts and crafts, to shooting free throws, to singing Mary Had a Little Lamb while standing on your head at home plate, it is an exciting day!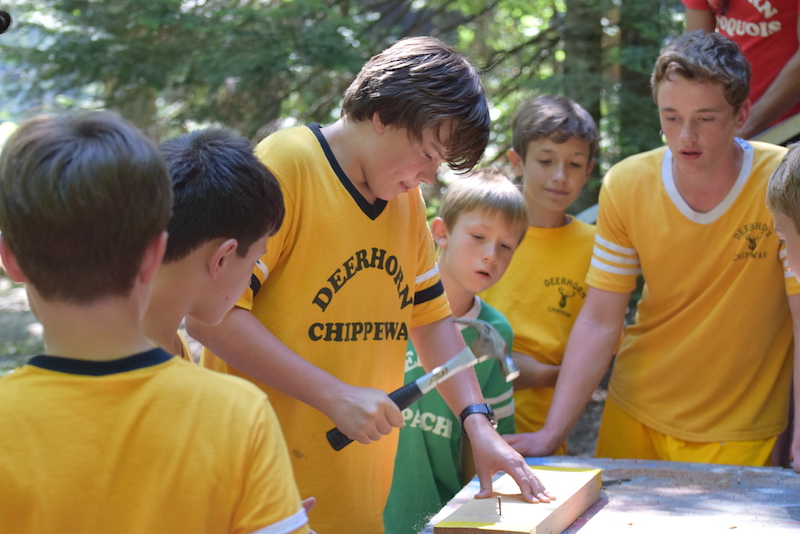 It's impressive to watch the concentration on their faces as they try their hardest not to drop the ping pong ball…Saddling horses, derigging Sunfish, putting a bandaid on a ping pong ball at the infirmary, no part of camp is left out!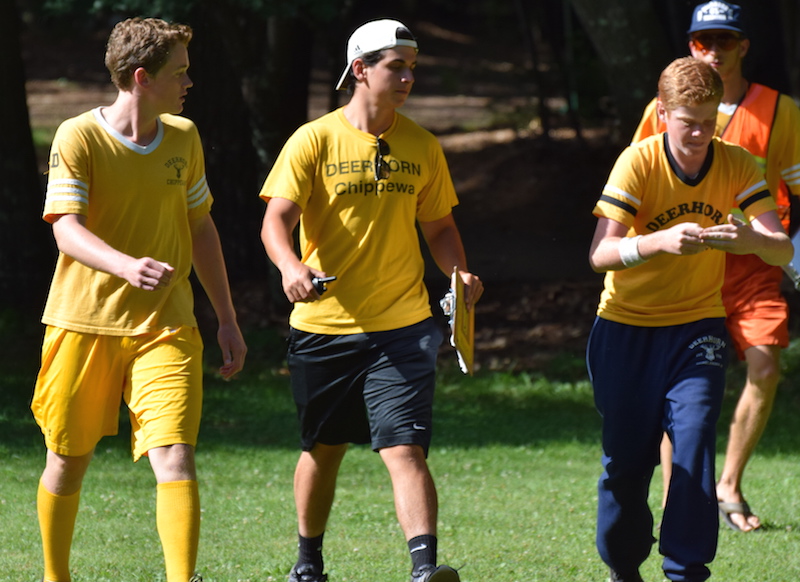 And then…following an A-dock run, one of the senior campers tags his leader and the sandcastle building begins!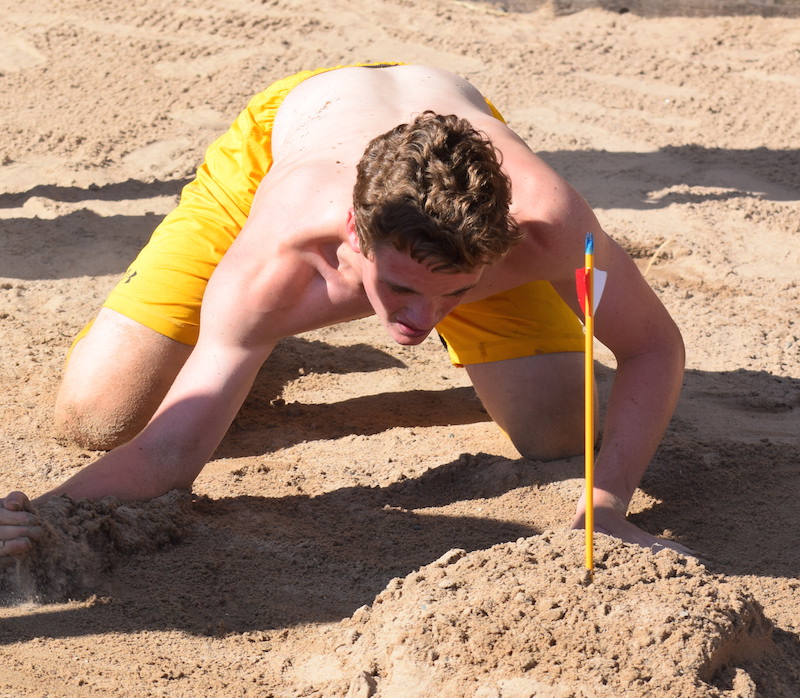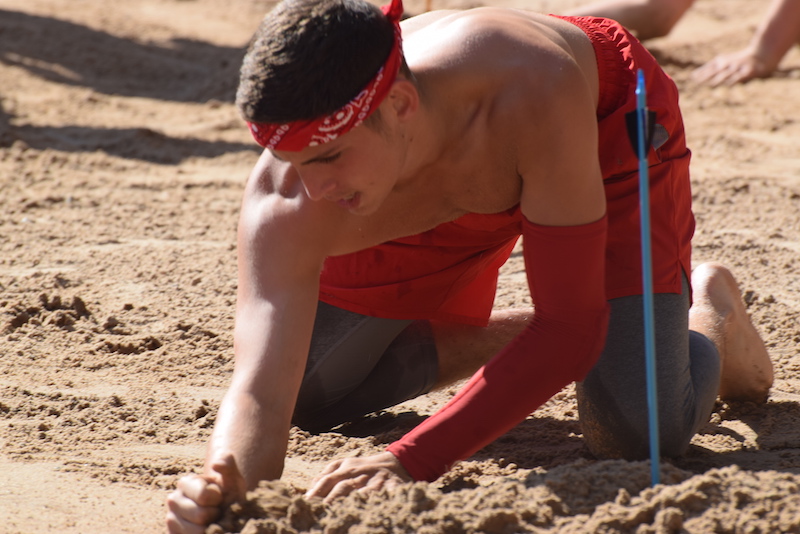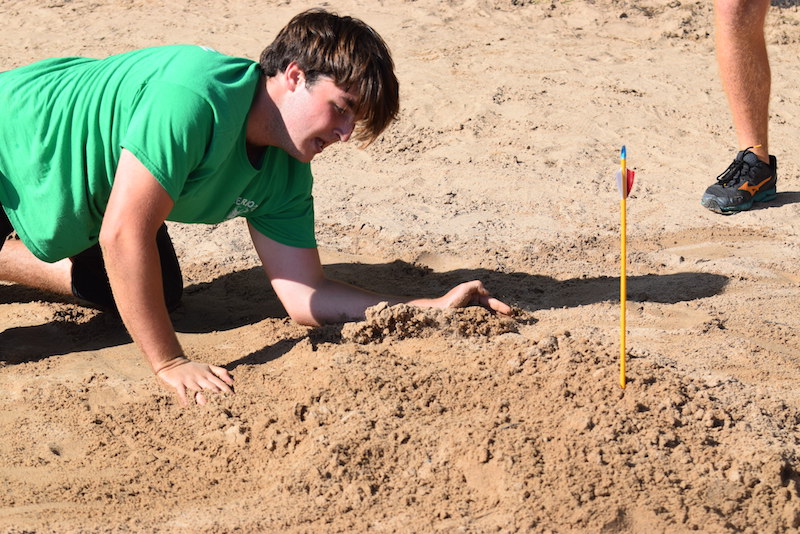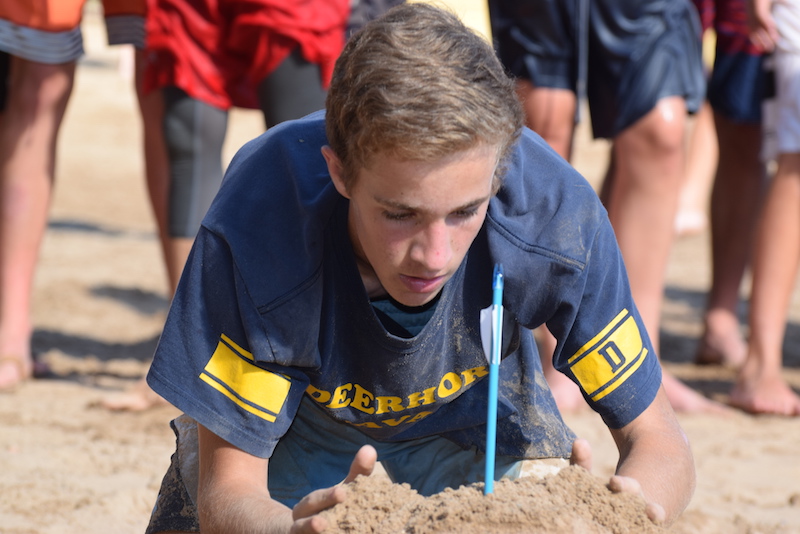 Each of the four camp leaders has to build a sandcastle over the top of an arrow buried in the sand…it is hard work, out in the sun, and takes a large base to make sure it doesn't crumble when you get to the top.  And all around them, all of their teammates are chanting their name.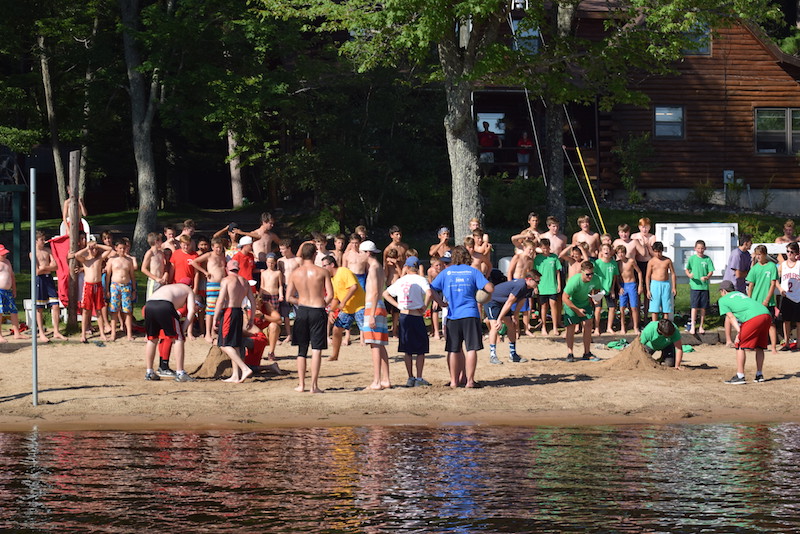 Coming into the sandcastles, the Chippewa had a slight lead over the Iroquois, but it came down to the wire as both Jake and Andrew built great sandcastles! The Chippewa pulled ahead and took the victory, but the Iroquois were close behind in second place. Diego followed soon after to lead the Apache to a third place win.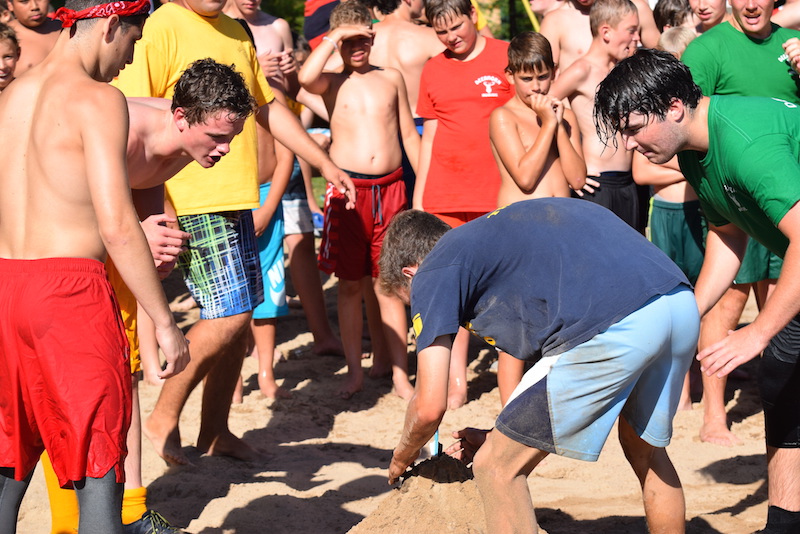 But then came the coolest part of the day, and this picture shows it perfectly.  The Navajo were way behind, because one of Max's campers had struggled earlier in the event, and Max came in to do the fastest sandcastle of the afternoon…while being surrounded and cheered on by his three Deerhorn brothers, and ALL of the rest of camp. I love watching this unfold, how at Deerhorn the competition is there, but it is not the most important thing. Competitions like these could bring out the worst in people, but for these guys, it brought out the best.   These guys are there for each other, and their love and friendship is far more important than any race.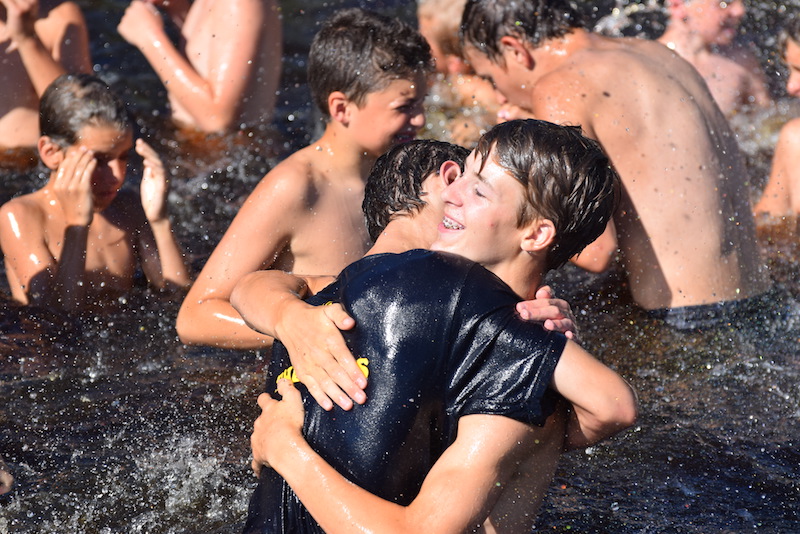 So yes, the Chippewa took the victory, and all four leaders made us proud. They supported their campers, cheered them on, and always made them feel proud of their accomplishment, whether they were the fastest or not.  But Max, you showed us today what we all love about Deerhorn.  Because you could have gotten angry or frustrated, but you didn't. That smile hardly ever left your face and you showed your team what is most important of all…having fun. You never gave up and you gave it your all until the very end.  What a gift you are to the Navajo.  We are so proud of all four of you.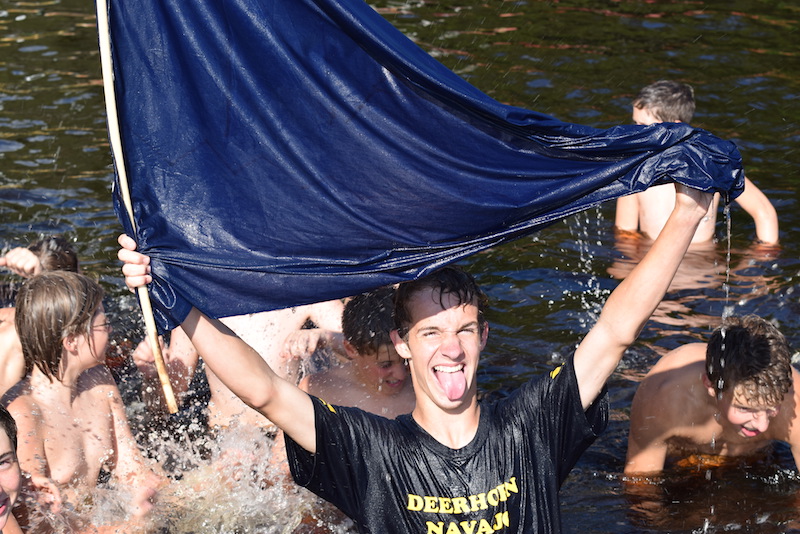 P.S. There are 272 pictures of today's event which will be uploaded to our Shutterfly site tonight, and posted tomorrow. In the meantime, they are posted on our Facebook page.