There were lots of kids up early this morning, long before the bell, ready to get going! (We're talking before 6am, and breakfast is at 8!) The excitement during A session is contagious. Anytime the bell rings, or the announcement is made for kids to report to the lodge, they run…everywhere….like there is no time to waste to get to the next fun thing. It's awesome to watch.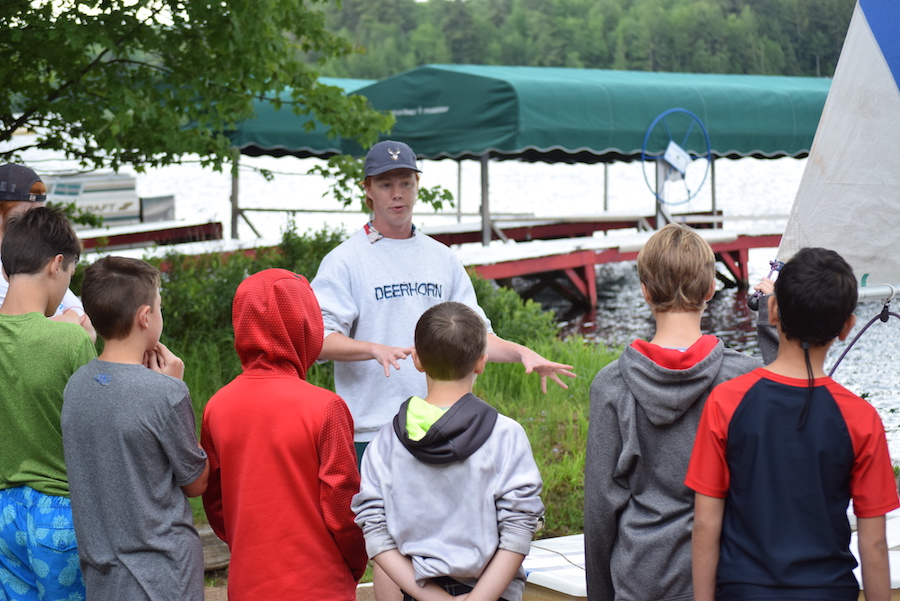 After pancakes for breakfast, kids found out what groups they were in, and they were off to activities! The first two days of activities are orientations and safety rules, but counselors try to get kids doing the activity as soon as possible. They have six activities Monday, Wednesday, and Friday, and the other six Tuesday, Thursday, and Saturday. The only activity they have every day is Sports and Games, because two groups are together. Today, Sports and Games played World Cup Soccer.
After chicken patties for lunch, we had a meeting in the lodge during part of rest hour to go over rules and expectations at Deerhorn, and what it means to "live the creed."  After three afternoon activities, there was a long line at the store, with kids super excited to buy plenty of Deerhorn gear! We barely got finished with everyone before dinner!
After dinner, kids did koogee competitions of team sports and games like Star Wars. (A camper favorite, but honestly I couldn't even try to explain how they play it!) It was a great day at Deerhorn, and there's lots of energy and enthusiasm. In case you were curious about the turtle flipping video I talked about in yesterday's blog, I forgot to add it. You can find it HERE.