Carl Anderson went out to the Rave with the kids at general swim this afternoon. One of those kids was Leo, who is less than 1/3 the size of Carl. To be more exact, Carl weighs about 3.5 times more than Leo does. Turns out, that's the perfect ratio…for the perfect Rave launches. When you see more photos of the launches on our Shutterfly site or on our Facebook page, you might be a little worried at the height those kids achieved, or the looks on some of their faces…usually it's pure joy, but sometimes the launch takes them by surprise. I can assure you, however, that no matter how high Leo got launched in the air, he came up laughing hysterically and begging for more…time after time. They had so much fun out on the Rave, with two staff members, so that one could lifeguard while the other launched. No campers were harmed in the launching from the Rave. 🙂
It got me thinking how the perfect ratio applies to camp as well. A summer at Deerhorn is the perfect ratio of help and independence, of fun and responsibility, of friendship and competition. That ratio creates an environment where kids feel challenged but supported, brave & mature enough to be at camp by themselves, but still being allowed to be young and silly. It's why kids love camp so much. It's why parents send their kids back to us year after year, trusting us to be a part of their growing up. They know they've found the perfect ratio at Deerhorn.
It was another busy day at camp. The Voyagers spent most of the day packing up for their trip that leaves tomorrow at 7am. They are all so excited to get going. They packed gear & loaded all the boats on the kayak trailer…they even managed to find time to write letters home before they left. (As did the rest of camp tonight at dinner.) Today was the last day of the Zombie Apocalypse game, with Jacob Weinstein taking home top prize by being the last man standing.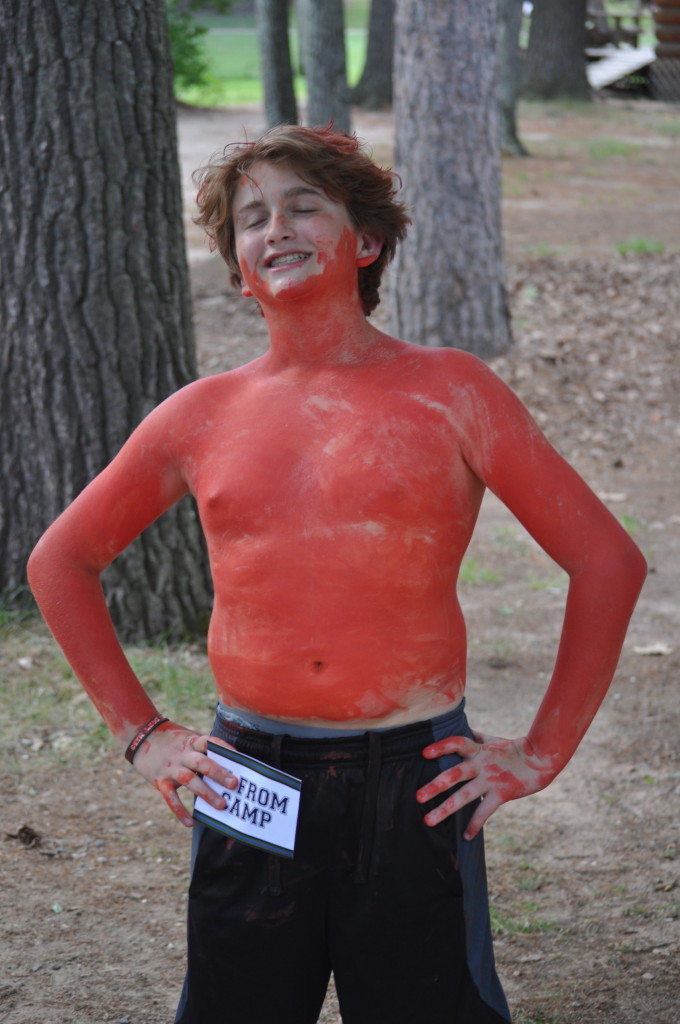 He managed to hide in the woods without being found until the game was over and everyone else had been tagged…until, of course, the entire group of 15 year old zombies raced up to the baseball field to find him, followed by about 20 other kids and several dogs. (Even Rooster came home with red paint on his head tonight!)  He won the game, but the zombies had their way with him in the end.
Breakfast this morning was biscuits & gravy, lunch was meatball subs, and dinner was burritos & nachos. Sports & Games played baseball on Dick Kinney Field, and the sun shone for a perfect day on the waterfront…sunshine & cool breezes…the perfect ratio.