Apologies for no blog yesterday. The last full day of this session was crazy busy, wrapping up the session and preparing for the Water Campfire last night. Yesterday was a great final full day of D session. Kids had regular activities in the morning, then spent rest hour packing up. The afternoon entailed three afternoons of team competition, ending with the third period Braveheart, everyone's favorite.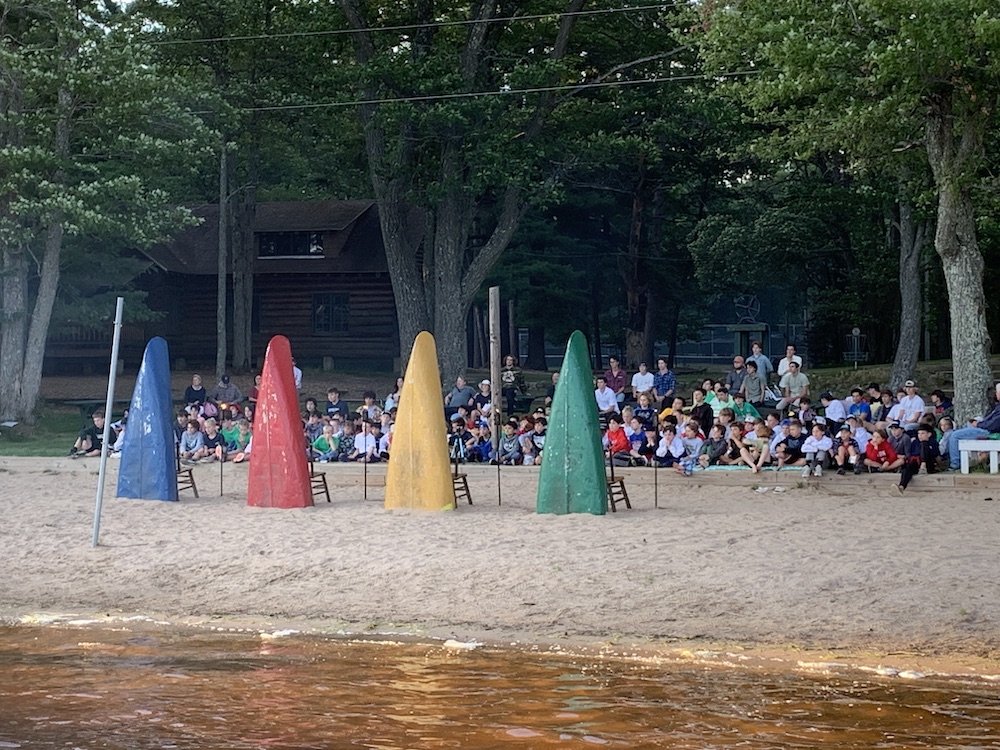 After dinner last night was the Water Campfire. It was an incredibly beautiful night celebrating the camper careers of the four amazing Leaders who have spent all summer with us, Emmett Nomellini, Vincent Mangat, Teddy Koehl, and Hayden Cheyne. Each Leader chose someone to introduce him, then the Leader gave a speech, then a song was played by someone the Leader had also chosen. It was a gorgeous night and very meaningful to all of us in attendance. The video of the Water Campfire will be posted soon to Youtube.
This morning we had our end of session awards breakfast. Kids received patches for their stars earned, as well as Most Improved in each activity. Braden Holcomb won the 11 and under tennis tournament, and Alex Fairchild won the 12 and up tennis tournament. We also awarded Deerhorn Spirit awards to Pierce Nomellini for juniors, Hudson Vargas for intermediates, and Navin Linson for seniors. Outstanding Camper trophies went to Jorge Hagg Martinez for junior, Mason Saltarelli for intermediates, and Jake Saltarelli for seniors. Videos of all speeches will be posted soon on Facebook.
We also presented our two big counselor awards this morning. The Derek Harms Memorial Kindness award is given to the staff member who most embodies Derek's spirit of kindness and inclusion. This year was extra special, because it went to Derek's good friend, Spencer Ellerbusch. The Deeley Lyons Award goes to the outstanding staff member of the summer, and this year's recipient was Parker Frautschi. Parker has filled many roles this summer, including teaching activities and being a crucial part of our health team.
The Chippewa has won the summer of 2022! They pulled ahead of the Apache by only 2,550 points to win the summer. Navajo took third and Iroquois took fourth. Team comp totals can be found on our website.
Thanks to everyone who shared their sons with us this summer. It was an amazing summer of camper sessions, and we look forward to welcoming dads and sons to two more Father Son camps, starting tomorrow, to wrap up another great summer at Deerhorn.